PHIPP STREET
This was my first studio, Martin Naylor got me in.
I moved in in 1973, while I was still working on my Degree show. At the time I had a broken right wrist in plaster. I was pretty skint so started working as Ivor Abrahams' assistant. He had a studio in Leonard Street, just around the corner. My studio was 1200 sq.ft. with no windows. So each day I was going from Old Street to Wimbledon to make work, then coming back to work on the studio to make it habitable, then working in Ivor's studio for a few hours at £1 an hour, all with a broken wrist. Happy days.
I had Victorian overhead gas heaters, which all worked so once I'd got all the windows covered in polythene then boarded across, it was very cosy. I wanted the studio to stay on one time, so whenever I entered it was the same time, so no natural light.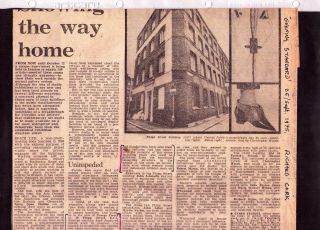 Above is the poster for my first show in 74. Right is my first review by Richard Cork. It shows the Phipp street building and a piece of my work upside down. I had a lot of resentment because of the number of lines on my work. It was the first Space Open Studios Exhibition in 1975.